Project 3.1

Name of underprivileged student: Prince Shahi Dob: 06/06/2005 Age: 17 City: Ranchi Request for Fees of Reference books/ stationery Currently studying in Class 11th at Guru Govind Singh School. Education Institution full address: Kamde Ranchi Jharkhand.

Office Tel number: 7903490146 Email: ggspskamde@gmail.com Name of Principal: SD

Aadhar Card Number of student: XXXXXXXXXXX
Full Name of Father: Ajay Shahi Age: 42
Presently working as: Farmer
Current monthly salary:
Adhar Card Number: XXXXXXXXXXXX Pan No. XXXXXXXXXX Full Name of Mother: Anita Devi Age: 40
Presently working as: House wife
Adhar Card Number XXXXXXXXXXX Pan No. XXXXXXXXXX

What is the request for? School Level: Yes Tuition fees- No Books, Stationery- Accountancy Rs. 650/-, Business Study Rs. 550/-, Economics Rs. 400/-, English Rs. 330/- Computer Rs. 570/-

Referred by: Name: Mr. Rajiv Soni Address:Gurgaon Cell:98-993-28283 Where currently working- Teaching underprivileged children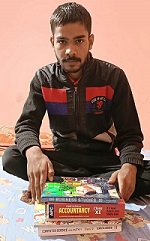 Prince Shahi with his books Mr. Aditya Vij has been kind enough to sponsor.