BDS, MDS
(AB SHETTY MEMORIAL INST. OF DENTAL SC.)
CERTIFICATE IN MICROSURGERY (CHENNAI).

DIRECTOR
Zahnarzte- Aesthetic Facial Surgery Clinic.

Senior Consultant, Faciomaxillary Surgery, JJ Institute of Medical Sciences, NH-10, BHDGH.
Professor, Faculty of Dental Sciences, SGT University.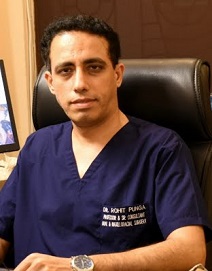 A Believer of "UNDER-PROMISE & OVER-DELIVER"
Web: http://www.aestheticfacialsurgeryclinic.com/

Formerly,
Resident - Dept Orthodontics, Maulana Azad Institute of Dental Sciences, New Delhi
Consultant Maxillo Facial Surgeon - FORTIS Hospital, Shalimar Bagh & Vasant Kunj, New Delhi
Visiting Consultant Maxillo Facial Surgeon - ARTEMIS Hospital,Gurgaon

BACKGROUND
With a dire passion to choose Maxillo-Facial Surgery as his profession, he started assisting senior maxillofacial surgeons in major surgeries since his internship in dental surgery (BDS) in 2004. To be able to appreciate facial proportions and aesthetics of the face better, he went on to do his Junior Residency in Orthodontics from the prestigious Maulana Azad Institute of Dental Sciences, Delhi. He secured the 5th rank, state PG entrance and 9th rank in the COMEDK all india entrance examination in 2007 and chose A.B. Shetty Memorial Institute of Dental Sciences,Mangalore, one of the nation's best institutes for the subject, to get trained as Resident (MDS) in Maxillo Facial Surgery, where he learnt, assisted and performed many surgeries in his chosen field.

TRAINING & EXPERIENCE
He was exposed to various aspects of Oral Cancer management including microvascular reconstruction at the esteemed Tata Memorial Hospital,Mumbai & Regional Cancer Centre,Trivandrum during his residency programme (MDS) in Maxillo-Facial Surgery. He later completed his basic training in Microvascular surgery from Chennai.He worked in a Craniofacial Center during his residency programme and gained experience in management of Craniofacial Trauma,Orthognathic Surgery,Cleft lip & palate & Cosmetic facial surgery. With his unique exposure to Neurosurgery at the K.S.Hegde Medical Hospital,Mangalore during his residency, he gained Operating room experience in management of Neurosurgical cases & in critical care.

THE PRACTICE OF SURGERY
He strongly believes and practices the use of Optical Magnification during any surgery to be able to concentrate on the minutest details of an operation, which he considers to be of vital importance for achieving perfection and for the long term success of surgery. His standards and practice of Sterilization are at par with the best in the world. He strictly adheres to the principles of surgery and has gradually devised his own working protocols in the operation theatre, all of which aim at overall patient care. His patient lists include few of the biggest names in the world of cricket, politics, ambassadors of foreign countries to India, established & aspiring models and even members of few of the royal families of India.

MINOR SURGERY
He is proficient in his minor surgical skills and has been practicing various innovative techniques to reduce the operating chair time for surgical procedures thus reducing patient anxiety and discomfort.

MAJOR SURGERY
His chief areas of interest include Orthognathic surgery for Facial Deformities, Correction of Residual Deformities, Midface Correction, Mandibular Condylar Fractures & Orbital Trauma. He believes strongly in the dictum "replace like with like" and has a special corner in his heart for his Reconstructive Facial Surgery patients.

ACAEDEMICS
He has been not only a member of the faculty at one of the esteemed post graduate teaching institutions in Delhi NCR but also takes active interest in the academic programmes and recent developments in his specialty through regularly attending conferences and workshops. He has presented scientific papers at various conferences and published another 17 scientific papers in various journals. He is a speaker of repute who lectures across the nation at various platforms including those of the IDA & AOMSI of various states.

PROFESSIONAL MEMBERSHIPS
He is a Life Member of the Association of Oral & Maxillo Facial Surgeons of India. He is also a member of the Indian Dental Association. He is also the Vice President of AOMSI, Delhi NCR state Branch for 2018-19.