Akshay Barik is a labour researcher, political strategist, social media and public policy analyst by profession. He has been a Indo-German Young Leader at IGYLF, and also serves as an advisor to Cultural Bridge.
He has also been a German Chancellor Fellow at the International Centre for Development and Decent Work at the University of Kassel, Germany and a Guest Researcher at the International Labour Organization, Geneva.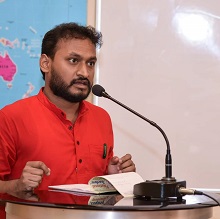 With his schooling from Apeejay School, Kolkata and a graduate in Political Science (Honours) from St. Xavier's College, Kolkata, a post graduate in Globalisation and Labour from Tata Institute of Social Sciences, Mumbai and a Young India Fellow from Ashoka University, Sonepat, and currently pursuing PhD in Sociology from Humboldt University, Germany, his areas of interest are politics, labour issues and rights, cyber hygiene and labour-cultural diplomacy.

He has also worked in the NITI Aayog, Office of Member of Parliament, India, Chief Minister's Office, Government of Punjab, Amnesty International, Indian Political Action Committee.